I am everywhere all at once.
blink I am behind you, blink I am at the edge of the curtain. blink I am at the party, where are you? blink I am the hand around your glass. blink I am the DJ. the quiet room and the loud one. blink I am the hallway and the gossip in it, the kind that licks the sickness away. blink I see you but you probably can't see me.
Q: how far does it need to go for it to be seen?
A: it starts in the mouth and swallows down. gurgle. it reminds me of earlier this week when i gulped in air with my sip of water and I had to wait for the pressure to release, like a valve in me I didn't know I had. it was like hot, sucking, hurt. in those few minutes I had a new way of measuring time, tongue to tail.
Q: what if we all did an arm but they were all different?
A: the veins in my hands seem closer to the surface than they were before. I think about time on the body, time in the body. it's different dancing this today than it was dancing it last week. I think it's good, this difference. it makes me understand what courses through me, what got me here.
Q: can we arrive to where we're going?
A: probably not.
Q: what if we could never turn?
A: I like that part, the heavy swing and we almost bonk heads. I read this study once that people lost in the desert or forest in overcast weather or in the dark really do walk in circles.
Q: does it need to go on longer?
A: that depends what you find here, how long you can stay with it.
Q: what is your solid?
A: skin, hair, muscles, flank, flank, stomp, huff, spit, spit.
Q: is it about rigidity?
A: either 1) only if you make it, or 2) gyroscope: an apparatus consisting of a rotating wheel so mounted that its axis can turn freely in certain or all directions, capable of maintaining the same absolute direction in space in spite of movements of the mountings: used to maintain equilibrium and to determine direction.
Q: then where is the tension?
A: in different relationships to power, to softness, layering, making themselves known. under the jaw. behind the eyes. breathe. breathe. again.
Q: should we try that again, or should we just leave it?
A: the traces of it stay here, all of our cells as islands, little masses containing everything in the sea of ourselves.
Q: did I make that weird?
A: part of it is always hidden, it's hard to know what till after, usually. what gets obscured unfolds in you, slowly, later.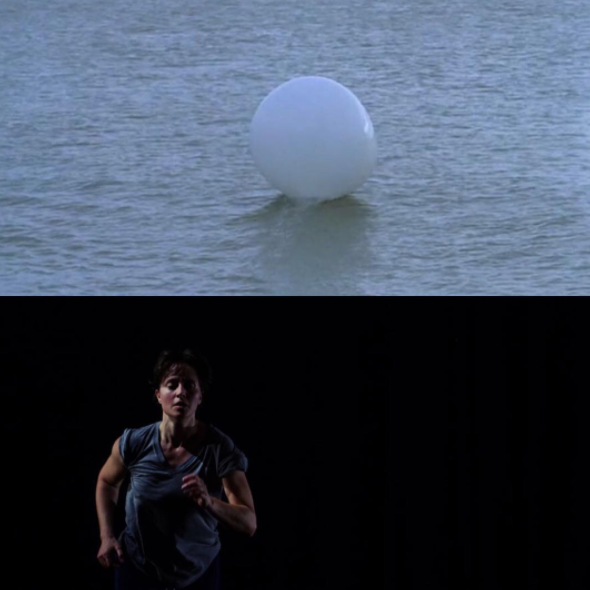 top: screenshot from The Prisoner; bottom: Deanna Peters, photo Yvonne Chew